Rosslyn Heights
My Plague of Mice and Flies
Sometime before Christmas 2002, a mouse died behind the drywall in the bedroom of my Rosslyn Heights apartment in Arlington, Virginia. I made the discovery when a pungent odor began wafting from an electrical socket near the mouse's final resting place. Maintenance cut open the drywall and removed the mouse. A few days later, an exterminator came and removed more mice; I was not told how many.
By New Year's Day, little flies—similar in size and shape to the kind you see on old bananas—had appeared. They've been in my apartment ever since (over two weeks at the time of this writing). I set up a trap in my living room by filling a bowl with water and placing it beneath a reading lamp. The pictures below serve to document this seemingly never-ending plague of flies.
If anyone has any suggestions and/or sympathetic words you'd like to send me, please write.
/Christopher Jewell
---
[ Page 1 ] | [ Page 2 ] | [ Page 3 ]

My fly trap. I hope MacGyver would be proud of me.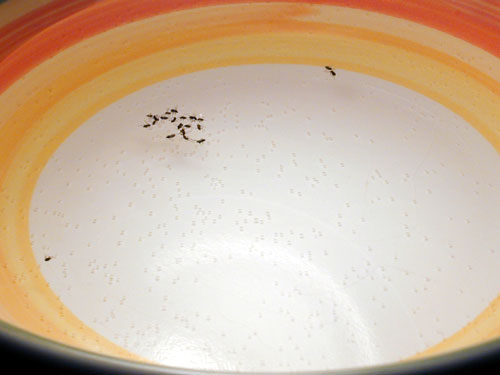 01/07/2003 9:18 AM – My first victims.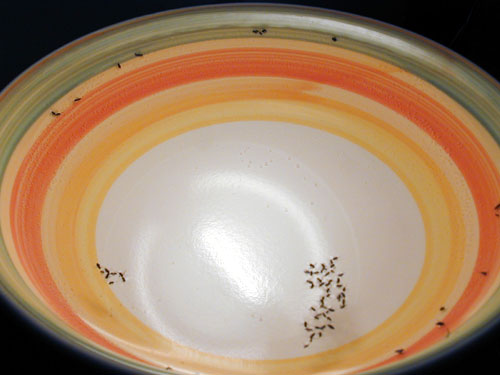 01/09/2003 3:24 AM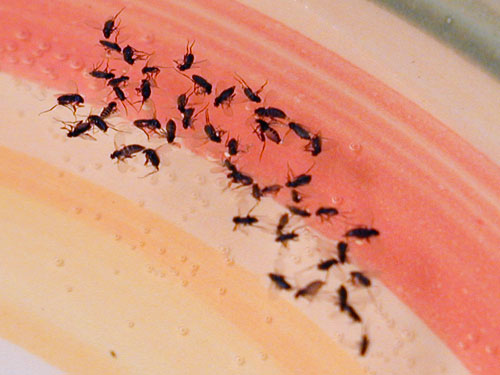 01/09/2003 3:16 AM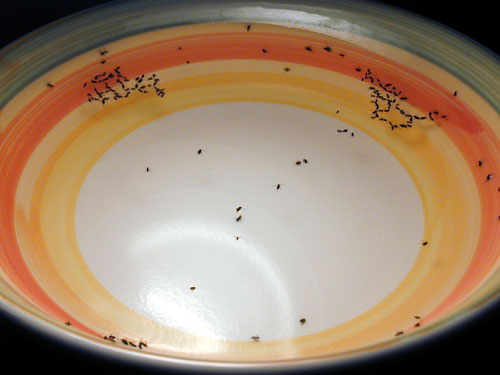 01/11/2003 12:27 PM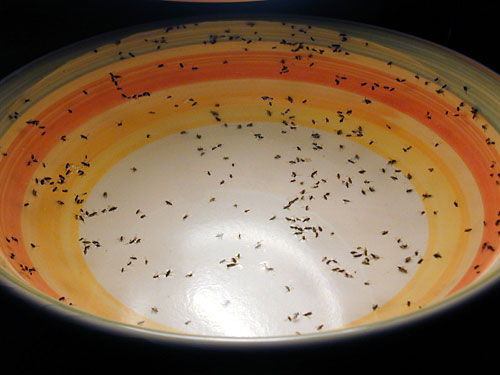 01/15/2003 12:11 AM – On the morning of January 13, the exterminator came yet again. This time, he blamed the flies on my lone house plant. Even though I had purchased it soon after I moved into Rosslyn Heights (then Summit Village) almost three years ago, I unceremoniously exiled my plant to the balcony and certain death in the January cold. This picture was taken 24 hours after the plant was removed from my apartment. The flies are as numerous and active as ever.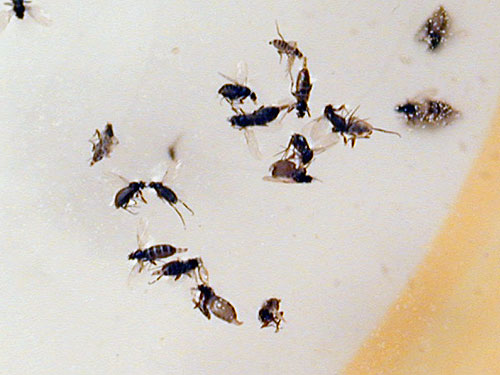 01/15/2003 12:12 AM – Is there an entymologist on the Web? Can anyone tell me how to get rid of these damn flies?
[ Page 1 ] | [ Page 2 ] | [ Page 3 ]