Rosslyn Heights
My Plague of Mice and Flies, Page 2
On January 17, I submitted a plea for help to two entomology mailing lists. I was touched by the response my e-mail generated and heartened by the near unanimous determination that the exterminator was wrong. My heartfelt thanks to all who visited my page and wrote. I now know what to call these pests: Humpbacked (or Phorid) flies. Armed with testimonials from several doctors of Entomology and the knowledge gained from Web sites they directed me to, I sat down at my computer and composed The Mother of All Angry Letters, delivering it to the leasing office on the morning of January 21.
ARLINGTON, January 23 -- The war is over! VRH (Victory Against Rosslyn Heights) Day has been declared. Before the guns could fall silent, I had to unleash an angry tirade against the property manager (who tried to placate me by only offering to move me). An hour later, the regional manager called me back to negotiate the terms of their surrender. In addition to relocating me, he agreed to waive the rent for February. I accepted the waiver but decided to stay put. Moving is a royal pain, I plan to purchase a home this year, and two weeks without DSL scares the hell out of this Web Developer. We agreed that while I'm away on business in February, they will tear the place apart if need be. But I don't think that will be necessary; I'm writing this on January 26, and I haven't seen a fly all day. My month-long ordeal has (fingers crossed) come to an end.
But wait! There's more. Continue on to Page 3 for the full story ...
---
[ Page 1 ] | [ Page 2 ] | [ Page 3 ]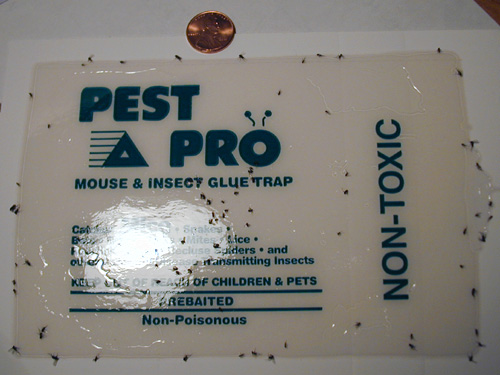 The exterminator left these glue traps for me to use. Their killing efficiency pales by comparison to my lamp and bowl of water setup.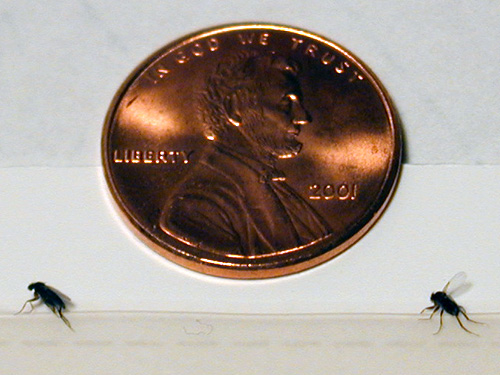 This photo gives you an idea of the flies' size.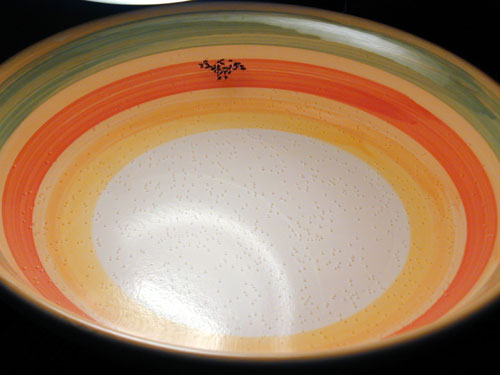 01/17/2003 9:19 AM – On January 16 I decided to start over with a fresh bowl, as it was getting difficult to determine whether or not I was actually killing more flies. I also feared potential catches were bouncing off their dead and dying comrades rather than drowning. This photo was taken the morning after the bowl change.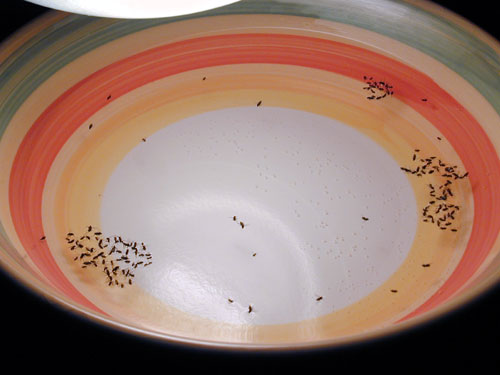 01/18/2003 12:30 PM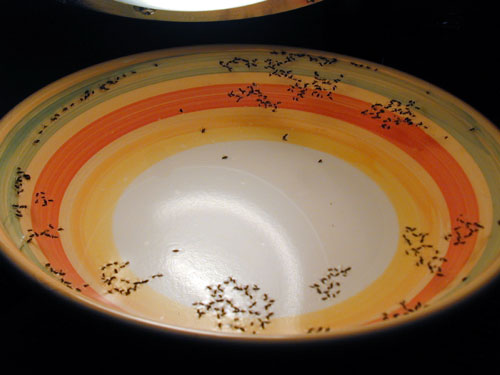 01/20/2003 8:44 PM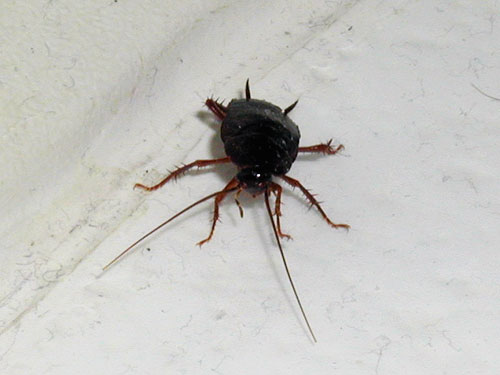 01/20/2003 9:03 PM – Apparently word of my insect house party has gone out to other species. Tonight I found this happy little guy in my bathroom next to the bathtub. For the last few WEEKS I've heard a mouse (mice?) scurrying beneath the tub. My theory is that dead ones are rotting under there as well.
01/21/2003 10:23 PM – Two entomologists offered to determine the exact species of Phoridae in my apartment if I sent them some specimens. Before I did that, I decided to ask around at work, and I found someone who had purchased an Intel Play QX3 Computer Microscope for his kid (cool gadget!). I'm hoping these photos (magnified at 60X and 200X) eliminate the need to insert insect specimens into the mail system.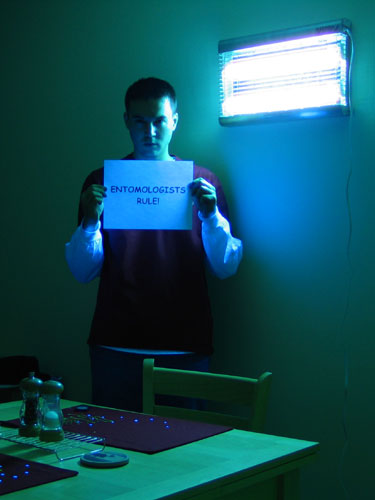 01/25/2003 10:34 PM – Nothing says home quite like a PestWest Mantis 1x2 electronic glue trap (courtesy of the Rosslyn Heights exterminator). And my sign says it all.
[ Page 1 ] | [ Page 2 ] | [ Page 3 ]